There is no more popular sport to bet on in America than NFL football.
With the 2022 NFL season fast approaching, we want to make sure new football bettors understand the key types of NFL bets you can make. In this article, we cover the basics of spread bets, moneylines, prop bets, parlays, teaser bets, futures bets, and more!
So let's get you ready to bet on football and win in 2022!
Moneyline
The moneyline is the most straightforward wager you can make in sports betting. Simply put, you are betting on which team will win the game. Each game will have odds on the moneyline for both the favorite and the underdog to win.
The favorite is the team expected to win the game, and the underdog is the team expected to lose the game.
When looking at odds, $100 is the standard unit for setting prices and payouts.
A favorite is always designated with a minus sign (-). Wherever you see a minus sign, that is the price you must risk to win $100.
Underdogs are always designated with a plus sign (+). Wherever you see a plus sign, that is the amount you will win if you wager $100.
Consider the following example (moneyline odds to the far right):

           Odds via DraftKings
In this 2022 Week 1 matchup, the Bengals are the heavy favorite, with -295 odds on the moneyline. That means if you bet $295 on the Bengals moneyline and they win the game, you would profit $100 ($395 total payout).
The Steelers are the underdog, with +245 odds to win the game. That means if you bet $100 on the Steelers moneyline and they win, you would profit $245 ($345 total payout).
Spread Bet
A point spread is a number set by an oddsmaker representing a projection of the margin of victory for the favorite over the underdog in a game. In spread betting, you wager on the margin of victory in a game.
Oddsmakers designate one team as the favorite and the other as the underdog.
When you bet on the favorite against the spread, you win your bet if the favored team wins by an amount greater than the point spread.
When you bet on the underdog against the spread, you win your bet if the underdog wins the game outright or loses by an amount less than the point spread.
Oddsmakers use point spreads to level the playing field for betting purposes by giving points or taking points away from each team.
Consider the Bengals vs. Steelers matchup again: 

The Bengals are 6.5-point favorites (-6.5) and the Steelers are 6.5-point underdogs (+6.5). If the Bengals win by seven or more points, they cover the spread. If the Steelers lose by six or fewer points or win outright, they cover the spread.
Point spreads allow you to find betting value on either the favorite or the underdog in a game, even if the outcome is expected to be lopsided.
Over/Under Bets (Totals)
With over/under (or totals bets), you wager on whether the combined number of total points scored by both teams in a game will be higher or lower than a set amount.
In the example below, the over/under for points scored in the Bills vs. Rams game is 52 points.

If you bet on over, you win your bet if 53 or more total points are scored in the game.
If you bet on the under, you would win your bet if 51 or fewer points are scored in the game.
If exactly 52 points are scored, you would push your bet, and the sportsbook would refund your initial stake.
Over/under's are also applied to other bet types like player props and futures bets (keep reading). In those contexts, you wager on whether a specific statistical outcome will be greater than or less than a set amount.
Parlays
A parlay is a wager in which two or more selections are combined into one bigger bet to create a riskier bet with a higher potential payout. In a parlay bet, all legs (individual selections) of the wager must win for the bet to cash.
Parlays are enticing to many casual bettors because you can bet a small amount and turn it into a big payday.
Point spreads, totals, moneylines, and player props can all be combined into a parlay. Depending on the sportsbook, bettors can combine as many as fifteen selections in a parlay. Of course, your odds of winning decrease with each selection you add.
Consider the following example of a parlay: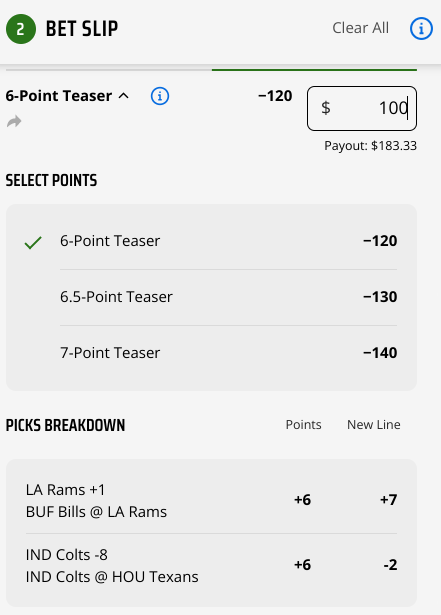 Suppose you believe both the Eagles (-4) and the Saints (-4.5) will cover the spread in their Week 1 matchup.
If both teams won by five or more points, you would win the parlay with a 2.64x payout.
But if either team fails to cover the spread (for example, the Eagles only by 3 points), you lose the bet.
If one leg of a parlay with three or more legs ends in a push, that bet drops from the parlay, and the odds are recalculated. So, for example, if you have a five-team parlay and one game pushes, it becomes a four-team parlay.
While parlays can provide great entertainment, you are highly unlikely to be profitable in the long run if parlays are a big part of your sports betting strategy.
Teasers
In a teaser bet, the bettor buys a specific number of points to make a point spread or total more favorable but must parlay the adjusted spread with at least one other selection.
Essentially, a teaser is a parlay with adjusted point spreads. As with parlay bets, all legs in a teaser must hit for you to win your bet.
A few things to know about teasers:
You can tease favorites or underdogs, whichever side of the point spread you favor.
Teasers can include as few as two legs and as many as ten legs, depending on the sportsbook.
For NFL football, bettors typically have three main teaser options: a six-point teaser, a six and a-half-point teaser, and a seven-point teaser. Some sportsbooks even offer ten-point teasers.
The most universally popular teaser bet is a two-team, six-point NFL teaser. This gives you six extra points on each leg of your teaser parlay.
Here's an example of a six-point teaser bet slip: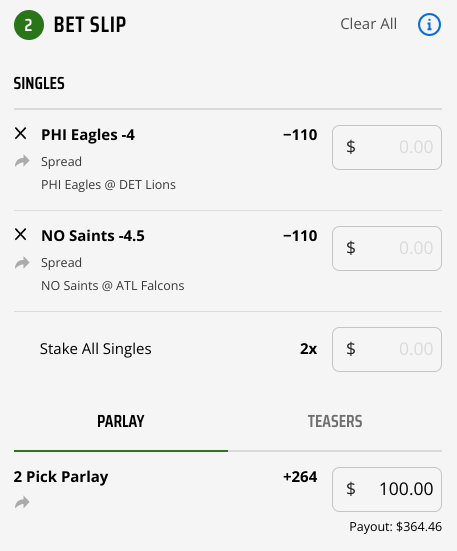 You can see in the "picks breakdown" at the bottom that the Rams line is adjusted from +1 to +7, and the Colts line is adjusted from -8 to -2. The odds of winning a single teaser leg are increased by the extra points in your favor, but remember, you must hit both legs!
You should only use teasers in a specific set of circumstances – when you move a point spread through two key numbers. Read our teaser bet explainer for more details on when to use teasers!
Prop Bets
Unlike moneyline bets and spread bets, which relate to the results of a game, proposition bets aren't directly tied to the outcome of a game. Rather, proposition bets are wagers on occurrences within the game.
There are two primary types of prop bets; player props and game props.
A player prop is a wager on a countable statistic or outcome for a specific player in a game. With player props, the bettor attempts to project a player's performance in a given game.
Some of the most widely available and popular NFL player props you can bet on include: over/under for passing yards, rushing yards, receiving yards, receptions, and quarterback touchdowns and interceptions.
For example, you can bet on Chargers quarterback Justin Herbert to go over/under 289.5 passing yards.
Say you bet on the over. If Herbert throws for 290 or more passing yards in the game, you would win the bet, and if he threw for 289 or fewer yards, you would lose the bet.
Game props are based on outcomes that happen throughout the game but aren't tied to a team or individual player.
Game props are often yes or no situations, like whether there will be a defensive touchdown or a safety. Which team will score first, whether or not there will be a score in the first five minutes, and over/under for the longest touchdown scored are a few common examples of game props.
When betting on NFL props, it's imperative to think through the unit-level strengths and weaknesses of each team and envision how you see the game playing out. Look for how one team or player might be able to exploit the opposition.≠
For more about prop bets, including examples, read our prop bets explainer.
Live Betting
Live betting, or in-game betting, refers to wagering on a game that's underway.
During an NFL game, sportsbooks post updated live lines, spreads, and totals after each quarter, during time-outs and stoppages, and after scoring plays.
For smart bettors, live betting can level the playing field with the sportsbook. How?
Live wagering allows bettors to observe the flow of the game and take advantage of their knowledge, observations, and judgment to identify betting angles based on how things are playing out.
With live betting, the books have to issue lines repeatedly in real-time, which robs them of their time/information advantage. Live betting odds are mostly generated with imperfect computer algorithms, which leaves sportsbooks prone to setting flawed lines.
With experience as a live bettor, you can take advantage of inefficiencies in these computer-generated numbers.
To succeed in live betting you need to be ready to act decisively.
Odds change so fast that you could be in the middle of placing a bet when the odds change again. If you see a good line, you need to pounce on it quickly before it disappears.
For more tips and information about live betting, check out our live betting explainer!
Futures Bets
A futures bet is a wager placed on outcomes decided over a longer time frame than an upcoming week of games, such as division winners, conference winners, and other season-long outcomes.
For example, before the 2022 NFL season, you can bet on the San Francisco 49ers to win the NFC West at +150.

If the Niners win the NFC West, you win your bet, but the outcome won't be decided until the end of the regular season.
Here are some examples of popular futures bets you can place:
Team futures, like regular season win totals, super bowl winner, conference winner, wagers on teams to make or miss the playoffs, to have a winning record, and more.
Full-season player futures like over/under for quarterback passing yards and touchdowns, rushing yards for running backs, receiving yards for wide receivers, and more.
Player awards like Most Valuable Player, Offensive Player of the Year, Defensive Player of the Year, and Offensive and Defensive Rookie of the Year.
Futures odds are typically available months before the start of an NFL season, and you can place futures bets during the season as well. Of course, the odds will change week-to-week based on teams' and players' performances.